Online Resources:                                                                    
Ancient History ebooks. Search for religions here. Citations available.                           
   Search for maps of the Holy land.
    Choose from the many different Bible versions provided here.  Bible dictionaries are also available.
-Biblical Studies Guide: Yale University
    A site containing a vast amount of information for biblical studies.
    A searchable, online journal from an Anabaptist prespective.
-Christian Classics Ethereal Library
    Classic Christian writings in full text, searchable by title or author.
    Includes the Confessions of St. Augustine and the City of God; Selections of the Writings of Kierkegaard;

    History of the Christian Church, v. 1-8 by Philip Schaff and much more.
    This site includes information on: Buddhism, Christianity, Hinduism, Islam and Judaism.
     Presented here are: Parallels of the Three Synoptics, Parallels of the Four Canonicals, The Five Gospels
     and Paul.
-Global Anabaptist Mennonite Encyclopeadia Online
    This searchable database includes the full text of The Mennonite Encyclopedia and much more.

  Religion & Philosophy information.
-Internet Encyclopedia of Philosophy
    You may browse by topic or search alphabetically.
    A searchable, online journal that reflects MB theology.
    The biography and full text writings of Menno Simons can be found here.

   "The goal of ReligionFacts is to provide free, reliable information - just the facts..." This is a searchable
    database of world religions.
    This site is organized by Religious group or subject.
-Stanford Encyclopedia of Philosophy
     "The Stanford Encyclopedia of Philosophy organizes scholars from around the world in philosophy and
      related disciplines to create and maintain an up-to-date reference work."
     This database is searchable by person or discipline.
      "Veritas Forums are events that engage students and faculty in discussions about life's hardest
      questions and the modern relevance of Jesus Christ."
      This web site includes forums and talks on questions about science and faith.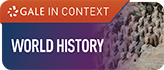 Search for world religions here.

   Searchable online encyclopedia that provides citations.

Cite your work with: